PD Blowers & Vacuum Pumps
Blocker & Wallace Service LLC is an industry leader in providing

positive displacement blowers and vacuum pumps
for the manufacturing industry. We are a Gardner Denver Factory Authorized Distributor, repair, & warranty center for PD Blower lines including

Sutorbilt
,

DuroFlow
,

Drum
,

CycloBlower
,

HeliFlow
,

TriFlow
, &

Elmo Rietschle
. Positive displacement blowers typically utilize a straight lobe rotor design with two or three lobes.
Advanced twisted rotor lobe profile designs are also used in certain applications. PD blowers have twin rotating rotors (1 & 3) timed to turn in unison creating a "positive displacement of air". The rotors achieve this by pulling air in through an intake port (A) filling a cavity formed by the rotor body and housing chamber (B). The rotating lobe then carries this "air pocket" around the housing chamber (3) & forces it out of the discharge port (C), hence the term "positive displacement of air".
PD blowers utilize load resistance or back pressure to create actual "air pressure" for conveying bulk products. The resistance is typically created by the product being conveyed. In reality, a PD blower has to have a resistance to create a significant pressure reading. PD blowers can also be used in vacuum applications by operating the unit from intake port on a blower.
Blocker and Wallace Service Line Sheet
3- Driven rotor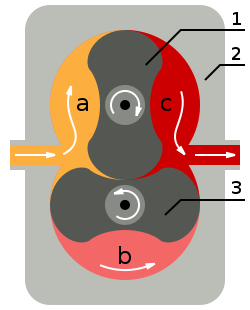 Simplifying Pneumatics