Blocker & Wallace Blog
Gardner Denver Positive Displacement Blowers for Sale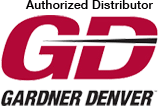 If you're looking for Gardner Denver positive displacement blowers, look no further. PD blowers utilize load resistance or back pressure to create actual "air pressure" for conveying bulk products, and they are used in a wide variety of industries and for various applications. In addition, positive displacement blowers can also be used in vacuum applications by operating the unit from the intake port on a blower.
Gardner Denver Positive Displacement Product Lines
Blocker & Wallace is proud to carry Gardner Denver products, including numerous
PD Blower
lines. Below you can see the different lines that we carry on our site, and the products that are available within each line.
Gardner Denver Sutorbilt
Sutorbilt industrial blowers and vacuum pumps have a long history in the pneumatic conveying industry and can be found successfully installed in manufacturing & waste-water treatment facilities around the world.
Gardner Denver DuroFlow
Each
DuroFlow
model delivers clean, oil-free air to a wide range of industrial applications and dual splash oil lubrication on the drive and gear end.
3000 Series: Delivers: Pressures to 15 PSIG, Vacuum to 15" Hg, Airflow to 231 CFM
4500 Series: Delivers: Pressures to 15 PSIG, Vacuum to 16" Hg, Airflow to 1875 CFM
70 Series: Delivers: Pressures to 15 PSIG, Vacuum to 16" Hg, Airflow to 4,282 CFM
Gardner Denver Drum
Whether you are hauling dry bulk products or running vacuum trucks, the
Drum
product line will provide the versatility and quality you require.
Drum D807/D907: Diamond shape discharge port for reduced noise, and added cooling fins and reinforcing ribs for added strength.
HPD450/E490: Compact vane compressors/blowers that deliver an oil-free range of flows and pressures for the discharge of powders from tank-trucks such as cement, flour, lime and other dry bulk materials.
STP125/150: Stainless steel Food Grade Cargo pump specifically designed for the transfer of food-grade products from tank trailers.
Gardner Denver CycloBlower
The
CycloBlower
operates at higher operating speeds for increased flow capacities. The most energy efficient PD Blower with higher pressure & vacuum performance capabilities.
Gardner Denver HeliFlow
HeliFlow: integrates proven experience with blower design, including a low noise solution for positive displacement blower and vacuum pumps.
Gardner Denver TriFlow
The
TriFlow
Industrial Series Rotary Tri-Lobe Vacuum Pump boasts quiet operation, flexible installation and quality assurance that are at the top of its market.