DuroFlow Blowers, Vacuum Pumps, Accessories & Kits
For nearly fifty years, DuroFlow
®
positive displacement blowers/vacuum pumps have combined leading-edge technology and on-the-job experience to continuously deliver enhanced designs and improved performance. DuroFlow PD blowers are available in the 3000, 4500 &

70 Series

with various configurations and rotor lengths to suit any specific application. DuroFlow blowers are manufactured under rigid ISO 9001 standards and exhaustively tested to meet strict performance criteria to ensure unequaled service life under the most severe operating conditions. Gardner Denver products are supported by a worldwide network of trained professionals and backed by a manufacturer's 18 /12 month warranty.
Click here
to view DuroFlow part Lists and exploded views.
DuroFlow Blower Features: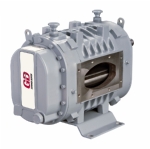 Each model delivers clean, oil-free air to a wide range of industrial applications
Dual splash oil lubrication on the drive and gear end
Horizontal or vertical mounting configuration available for each blower
Oversized bearings for added support and greater durability
Innovative rotor/shaft design machined from a single, ductile iron casting
Solid rotors (30 & 45 Series only)
Noise reduction extra cylinder mass and progressive porting aid in reducing noise
Manufactured under rigid ISO 9001 standards by quality crafts persons